Jams, Preserves, Marmalades, Chutneys and Pickles
Everything that comes in a jar has been mainstream Country Markets fare since the "Jam and Jerusalem" days when it was still part of the Women's Institute (over 20 years ago). Apart from being home-produced, like all our goods, the jams are made from fruit growing in our gardens. There is nothing in them except the home-grown fruit, sugar and (sometimes) lemon juice.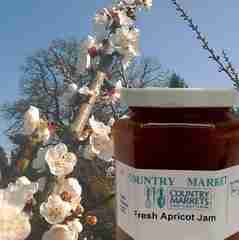 The citrus for the marmalades are bought in, of course, but they are made with loving care in small batches and have an exquisite taste. Make breakfast a daily treat.
Chutneys and pickles contain a mixture of purchased and garden-grown produce. The latter is generally the main part as we make chutneys from produce which is in glut at the height of the season.
To order our jams etc. just click on start shopping and then click on the "preserves.." tab
Examples: jam -blackberry, blackcurrant, gooseberry, rhubarb, fresh apricot, strawberry, fresh fig, damson, loganberry, plum, raspberry, bramble jelly, quince jelly, Chutney - fig date and shallot, smokey tomato, pear and walnut, wild plum, green tomato, apricot and marrow, chilli jam, pickled courgettes, pickled asparagus, Marmalade -seville orange, lime, lemon and lime.