How to use the Hub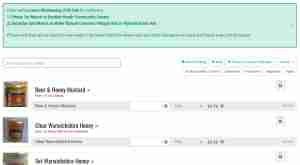 When you click on "Start Shopping" you'll be taken to a message telling you you can order and pick up the goods from Bentley Heath (Friday) or from Balsall Common or Wythall and Hollywood (Saturday). Full details of times, locations etc. can be found on the West Midlands website
From "Start Shopping" scroll down and you will find a list of all the things you can order online from us.
To make it easier to find what you want use the tabs (in blue or black at the top of the list) to sort it by category. You can have more than one category checked at the same time. You can also use the search box on the left of the page to home in on particular things.
Click on the pictures of the goods to get a larger view and to access additional information. Add goods to your basket by clicking on the arrows by the box in the middle of the bar.
When you check out you choose which market you would like to collect your goods from.

Country Markets Hub is run by West Midlands Country Markets which is a Cooperative defined as a Benefit to the Community (Bencom) under the Industrial Provident Act of 1968.

West Midlands Country Markets Ltd
Registered in England & Wales Reg No: IP 21638R

Registered Office: Balsall Common Village Hall, Station Road, Balsall Common. CV7 7FF
W.Midlands Country Markets Website
W.Midlands Country Markets Facebook

Contact us at cookcraftgrow@gmail.com
Or telephone us at 07929860368